Adoration of the Most Blessed Sacrament
"I am with you always, to the close to the age." Mt 20:28
Eucharistic Adoration is when we honour and worship Christ truly present in the Blessed Sacrament. The Eucharist is "the source and summit of the Christian life." (Lumen Gentium 11) Come and spend some quiet time in front of our Eucharistic Lord exposed in the monstrance.
Read this for a simple explanation of this special devotion
Adoration Schedule (Following Weekday Masses):
Friday 9:00 am – 10:00 am
O sacrament most holy! O sacrament divine!
All praise and all thanksgiving be every moment thine!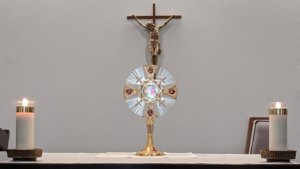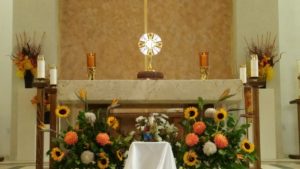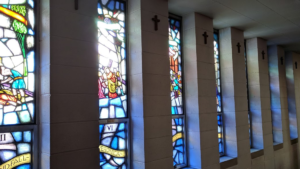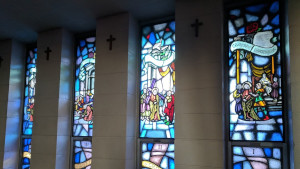 Stations of the Cross
Fridays in Lent, 7:00 pm in the Church
The Stations of the Cross, Way of the Cross or Via Dolorosa is a popular Lenten devotion. On Fridays in Lent, we gather as a parish to pray and call to mind Christ's passion, the journey Jesus took from His condemnation to His death on the cross.
According to tradition, our Blessed Mother would retrace the steps her son took on the way to Calvary, pondering all of it in her heart. For many centuries, pilgrims in Jerusalem have followed in these footsteps of Jesus and stopped along the way to remember the significant events that happened. Our church has an especially beautiful set of stations pictured in stained glass.
Booklets are provided to follow along. Please come and join us in drawing closer to the Lord this Lent through this wonderful devotion.
Sources for more info:
Rosary
We gather to pray the Rosary after weekday morning Mass (Tuesday to Friday at 8:30 am). The rosary is a meditative prayer on the life of Christ that also asks Our Lady for her intercession. The praying of the Rosary was also widely promoted by Saint Dominic, our patron.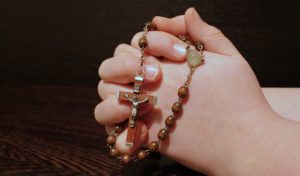 We also pray a rosary for peace — outside, in front of the Church on Wednesdays at 6:00 pm.