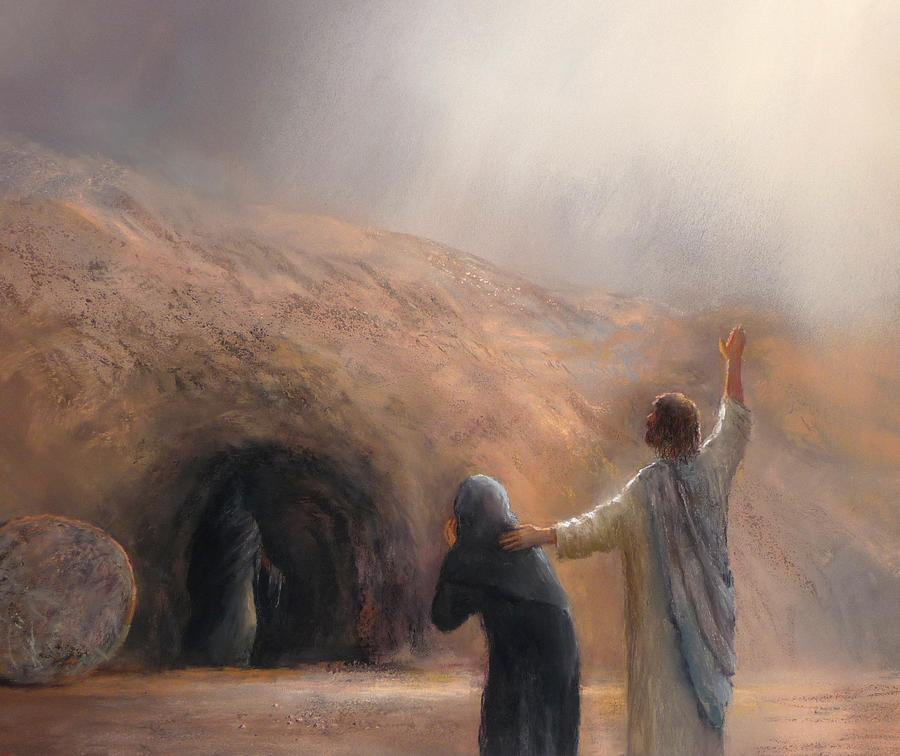 With the Fifth Sunday of Lent, the instructions to catechumens reach their climax – where they will be made aware that the day of their approaching baptism is also the day of their resurrection. After they have proved their grasp on this essential Christian teaching they will join the 'faithful' for the first time during this mid-week to pray 'The Our Father'. Let us then try to understand the teaching that is presented in today's Liturgy.
The scripture begins with a rather strange family. Mention is made of a brother living with two of his sisters and nothing is spoken about their parents (unusual for a Jewish writer). John, in a strange way, speaks about Christian family: all believers in Christ are one family – brothers and sisters in Christ, and there is no superior among them. This family is "of one heart and one mind".  The death of one person (brother) has affected all of them.
John is using Jesus' words to help the early church understand what it means to have 'life in Christ'. Believing in Christ does not stop us from facing our natural death. John emphasises that Jesus waited for two more days to allow Lazarus to die, so that he could give Lazarus new life. St. Paul explains this mystery beautifully in the second reading. Paul implies that Jesus is part of God and God has no beginning nor end. As a human person, Jesus dies on the Cross – a sacrifice for the salvation of humanity. God raised Jesus and gave Him His divine Glory. Saint Paul says that every believer receives in baptism, the same spirit that raised Jesus from the dead. Therefore, when we believe in Christ, even though we die, we will live.
The early Church firmly believed that our death is the beginning of a much greater and fuller life. It celebrated the death of the Saints. The divine life which a believer receives in baptism cannot be seen nor touched but it will fully manifest at his death. His faith in Christ will lead him to eternity. Jesus ordered to remove the stone which blocked the tomb. In Jesus' resurrection, death has been conquered, the stone is removed, and we have the pledge of eternal life.
There is a pleasant scene in today's scripture which teaches us the basic, yet very important step in the growth of our faith. Jesus waited for Mary and Martha to come to Him before He entered the village. Jesus did not want Mary and Martha to grieve aimlessly and look inwardly for consolation, rather, He wanted them to initiate the movement to go to Him. He waited for them to come to Him first before he gave back Lazarus his life.  It is an invitation for all of us to find Jesus in our times of struggle. Our struggles bring us meaning when we face them in Christ. He is our 'Resurrection and our life'.
–Fr. Ranjan D'Sa OCD